The George Ray Farm
Family, farming, and faith in Prince William County
Written by David Cuff using information researched by Don Wilson with RELIC, and other sources. April 4, 2018
After purchasing 88 acres for $1,000 in cash from Aubrey L. Clarke and Maude Blaine Clarke of Washington D.C. on June 14, 1920, 46 year old lay preacher, carpenter, and farmer, George W. Ray started to build a house for his still growing family. It's likely his recent land purchase was desired to allow his oldest living son, Frederick D. Ray to move into his own house near his father. The land his father purchased was more than enough for both Ray's to have houses and farmland.
County records show the two houses on the property were built in 1920. They must have been constructed quickly, in the summer months, the houses needed to be ready for the winter chill.
On the 1910 census George Ray's family is living in the area, likely fairly close to the Mount Olive Church on Telegraph road. The census shows three sons, and four daughters living in the house with George and Markconia Ray. The children are listed as George Ray, Fred S. Ray, Hellon Ray, Wreather B. Ray, Jonie Ray, Thomas Ray, and Roxsy Ray.
When the 1920 census was done before the 1920 land purchase so they were not yet moved to the Horner Road farm yet. The census shows one son and four daughters living in the house. They are listed as Iona Ray, William T. Ray, Carrine B. Ray, Maude Ray, Angeline Ray.
On the 1930 census one daughter and one granddaughter are listed as living in the George and Markconia Ray's home, they are listed as Corene E. Ray, Mamie Brent. The 1930 census also lists Frederick D. Ray in the next group of data, likely because he's living next door.
The Ray's had a large family, grounded in farming and faith. George Ray was a farmer all his life, but a dedicated man of faith. In 1915 he helped lay the cornerstone and construct the Mount Olive Church on Telegraph Road. Sometime after WWII George Ray was ordained by Mount Olive Pastor Edward W. Burrell. George's son, William Thomas Ray, born in 1907, was also a minister.
In 1972 George Ray's grandson, Frederick L. Ray became pastor of Mount Olive Church and served for 33 years until his death on June, 24, 2000. In 1996 Frederick Ray and two other pastors founded and established the Friends of Jesus Christ Biblical Institute, renamed the Frederick L. Ray (FLR) Biblical Institute. The institute is a Christian college for pastors, ministers and church leaders to study the word of the Bible. The Frederick L. Ray Biblical Institute is accredited and affiliated with more than 100 other Christian colleges throughout the United States.
Mount Olive's current pastor, Reverend Clyde W. Ellis, Jr. was ordained by Frederick Ray in 1989 and has been pastor since March 3, 2001. Reverend Ellis is only the 6th pastor of Mount Olive Church in it's 100 plus year history.
Several of the Ray family were laid to rest at the Mount Olive Church on Telegraph Road. Family, farming, and faith proved to be a good life for George and his wife. George lived to be 88 and his wife, Markconia died at the age of 94.
Every effort is made to accurately interpret land and family records when converting information into structured sentences but mistakes happen. If you have information about the Ray family or the farm, or are a family member who can provide more information or pictures of the family or farm please contact David Cuff.

Sample from the 1910 Census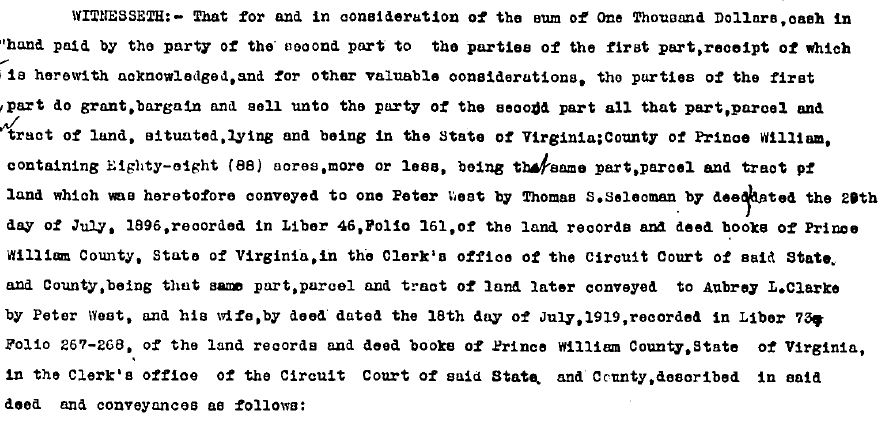 Sample from Deed Book 74, page 380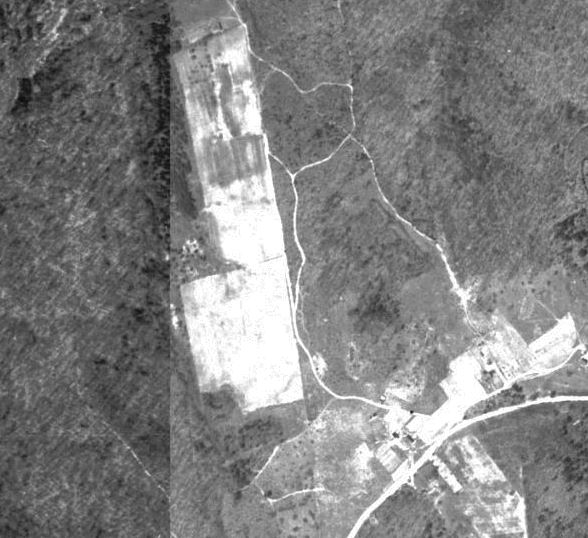 Image of the farm in 1937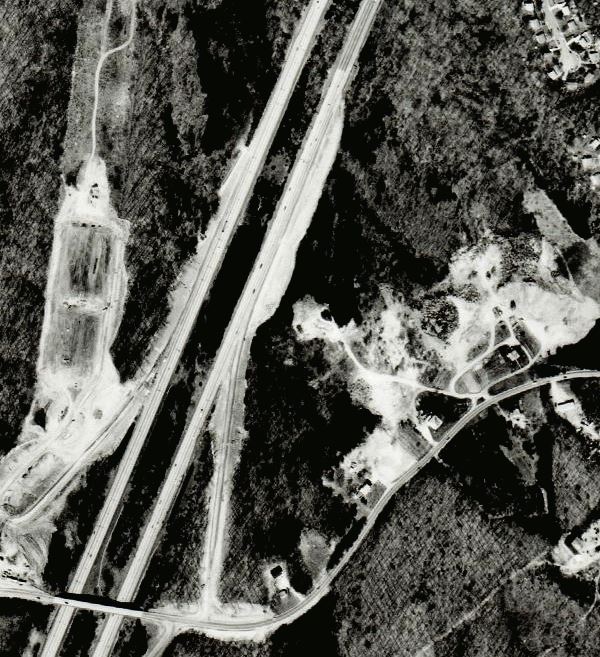 Image of the farm in 1979
George Ray Farm
Mount Olive Church
References
Deed Book 136, page 218
Deed Book 74, page 380
http://gisweb.pwcgov.org/webapps/CountyMapper/
https://mobcwoodbridge.org/about-mount-olive/
https://www.lordschflrayunderstanding.org/f-l-ray-biblical-institute
https://www.findagrave.com/cemetery/2204026/memorial-search?firstName=&lastName=ray&page=1#sr-17657760
https://www.familysearch.org/search/record/results?count=20&localeSubcountryName=Virginia&query=%2Bgivenname%3AGeorge~%20%2Bsurname%3ARay~%20%2Bresidence_place%3A%22Prince%20William%20County%22~%20%2Bdeath_year%3A1962-1962~%20%2Brecord_country%3A%22United%20States%22%20%2Brecord_subcountry%3A%22United%20States%2CVirginia%22