2017 History Symposium
Saturday, March 25th, $10 for all day symposium (8:30a.m. – 6p.m.)
Sunday, March 25, $50 for historic homes tour. Spaces are limited, reservations required.
The $10 fee for the Symposium include, speakers throughout the day and an evening reception at the Manassas Museum.
On March 26, take a rare chance to visit four privately owned historic homes in Prince William County. The $50 fee includes transportation and lunch. Spaces are limited. For information and reservations call 703-792-4754 or email historicpreservation@pwcgov.org.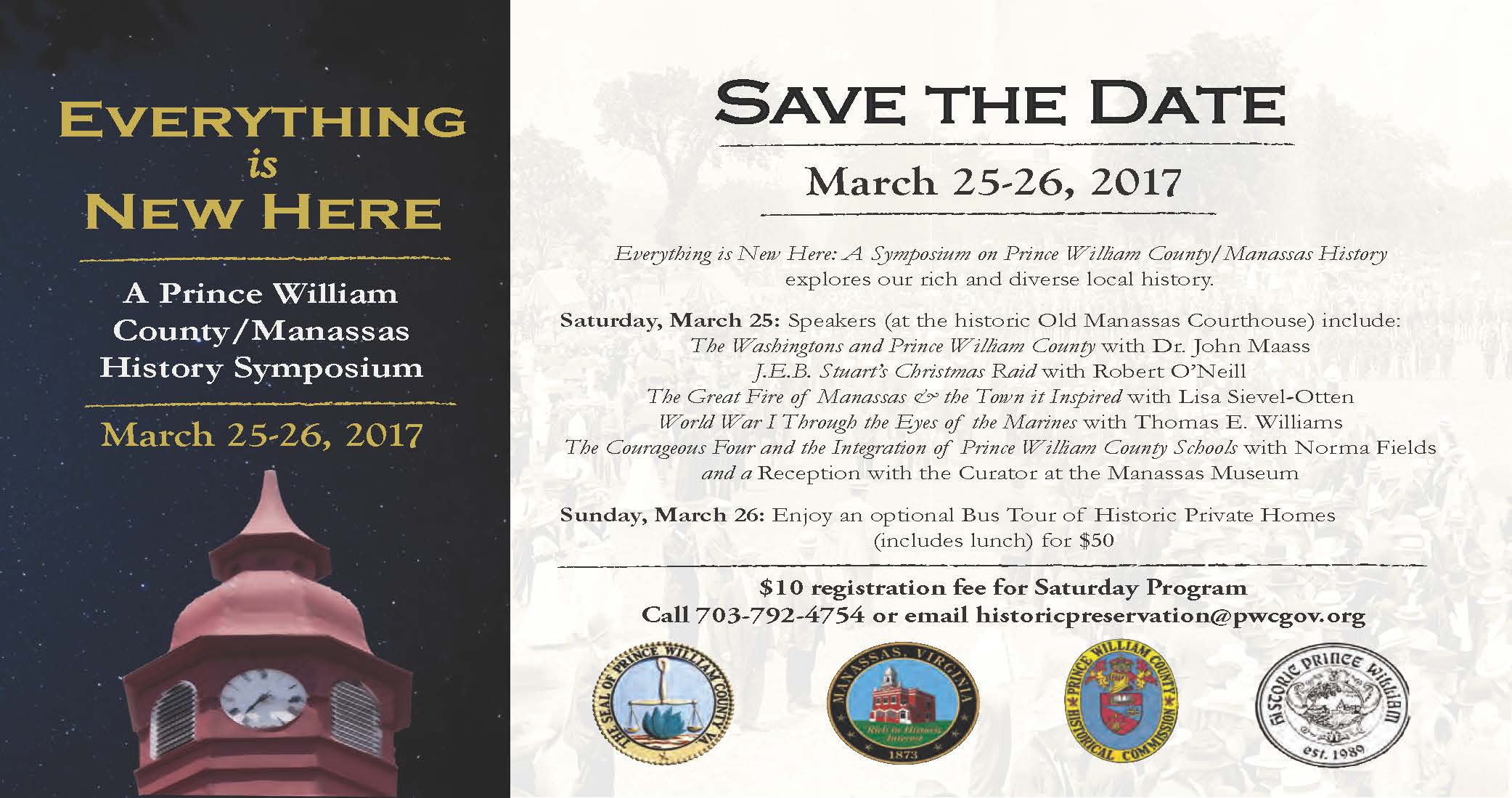 Local History In the News
Historical marker makes note of Arlington "segregation wall" and its impact (InsideNOVA, Feb. 27, 2017)
Colonial-era Alexandria house may be opened to public with state money (Washington Post, Sept. 15, 2016)
Prince William County keeps track of fading memories (InsideNOVA, Sept. 7, 2016)
Anonymous graves make way for Roanoke County VDOT expansion (The Roanoke Times, Aug. 10, 2016)
Who Will Tell the Story of Slavery? (NY Times, June 29, 2016)
Aden's origins remain a true mystery (Potomac Local, April 26, 2016)
Headstones kicked over at Dumfries Cemetery (Potomac Local, March 24, 2016)
Base archaeologist uncovers 5,000 years of Quantico history (Quantico Sentry, Feb. 8, 2016)
Historic Winery Effingham Manor to Open in Nokesville (Bristow Beat, Feb. 4, 2016)
Forgotten family graveyard found on Marine Corps Base Quantico west side (Quantico Sentry, Jan. 31, 2016)
Good old church' faces demolition (Prince William Times, Nov. 11, 2015)
On September 8, 2015, Prince William County repeated the 12th High School Cemetery Controversy by approving removal of a cemetery at Coles Fire Station:
Historical commission members quit following decision to move graves (InsideNOVA, September 14, 2015)
Agenda item 8-B - Accept Public Comments on Proposed Relocation of Abandoned Cemetery at Coles District Fire Station 6 for Board of County Supervisors meeting, September 8, 2015
Prince William mulls moving graves to build fire station (InsideNOVA, September 8, 2015)
Prince William County seeks to relocate cemetery to build new fire station (Fox5 TV, September 5, 2015)
Prince William County could move cemetery to make way for new fire station (Potomac Local, September 4, 2015)
Mystery graves: Who's buried by the Coles Volunteer Fire Department? (InsideNOVA, April 22, 2014)
Iconic Prince William barn to become 'destination brewery' (InsideNOVA, September 10, 2015)
From idea to city showcase at the Candy Factory (InsideNOVA, August 31, 2015)
Controversial Virginia family subject of Manassas Museum exhibit (Potomac Local, August 14, 2015)
The ladies who bring history to life at Civil War Weekend in Manassas (Potomac Local, August 10, 2015)
Prince William County history buff gets his wedding wish (Washington Post, June 28, 2015)
Prince William teacher recalls role in helping integrate county schools (Washington Post, February 13, 2012)
Publications

Crossroads and Corners has been reprinted and is now available for purchase, along with the historic map. For details, see Publications (and be sure to check out the monthly Brentsville Neighbors report too...)
Facebook